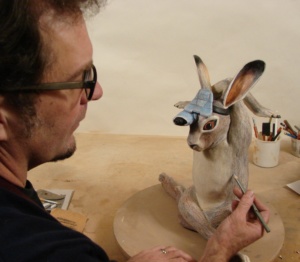 Joe Batt is originally from South Dakota. He received a Bachelor of Fine Arts from the University of South Dakota and a Master of Fine Arts from the University of Montana. Currently, Joe is full time art faculty at South Puget Sound Community College in Olympia, Washington. He has also taught at California State University, Chico, California; the University of Montana, in Missoula, Montana; and Lower Columbia College in Longview, Washington.
Joe's recent work includes narrative clay figures, installation, and mixed media pieces which feature hares and children as the main characters. These works are part of an ongoing exploration of innocence, endurance, and our relationship with technology and the natural world.
Joe has been a McKnight Artist in Residence at the Northern Clay Center in Minneapolis, Minnesota. He has also done residencies at Watershed Center for the Ceramic Arts in Newcastle, Maine, and at Red Lodge Clay Center in Red Lodge, Montana. He recently had the opportunity to teach a five day workshop at Metchosin International Summer School of the Arts in Victoria, British Columbia.
Like many artists, Joe has a music side. He has performed in many places in the Northwest and Midwest. Years of rock have lead to folk and old-time experimentation. In addition to recording projects done with previous bands, he has released two solo records of original songs.
---
RESUME
Joe Batt
Full time Art Faculty, South Puget Sound Community College, Olympia, WA
EDUCATION
1990 Bachelor of Fine Arts, University of South Dakota, Vermillion
1993 Master of Fine Arts, University of Montana, Missoula
SELECTED SOLO EXHIBITIONS
2020 Connectivity, Solo Exhibition, Helen S. Smith Gallery, Green River College, Auburn, WA
2020 In the Cloud, Solo Exhibition, Forsberg Gallery, Lower Columbia College, Longview, WA
2019 Late Night Lagomorphic Marauders, Solo Exhibition, Allsorts Gallery, Olympia, Washington
2018 In the Cloud, PUB Gallery, Peninsula College, Port Townsend, Washington
2016 In the Cloud, The Art Center, Washington State University Tri-Cities, Richland, Washington
2016 In the Cloud, Esvelt Gallery, Columbia Basin College, Pasco, Washington
2015 In the Cloud, The Gallery, Tacoma Community College, Tacoma, Washington
2015 In the Cloud, Cascade Gallery, Portland Community College, Cascade Campus, Portland, Oregon
2014 In the Cloud, Salon Refu, Olympia, Washingon
2012 In the Cloud, Brunswick Building Gallery, Missoula, Montana
2006 Late Night Creatures that Hop and Talk, Washington Pavilion Visual Arts Center, Sioux Falls, South Dakota
2005 Late Night Creatures that Hop and Talk, The Apex Gallery, Rapid City, South Dakota
SELECTED GROUP EXHIBITIONS
2020 CVG Juried Exhibition, Collective Visions Gallery, Bremerton, WA
2020 Percival Plinth Outdoor Sculpture Exhibition, City of Olympia, Olympia, WA, June 2020 to June 2021
2019 While You Were Out: Annual Postcard Exhibition, The Gallery, South Puget Sound Community College, Olympia, Washington, People's Choice
2019 Missoula Art Museum's 47th Annual Art Auction Exhibition, Missoula Art Museum, Missoula, Montana
2018 Brunswick Gallery 40th Anniversary Invitational Exhibition, Missoula, Montana
2017 15th Annual Juried Exhibition, The Gallery, Tacoma Community College, Tacoma, Washington, Jurors's Choice
2016 Summer Artist Invites Artist Group Exhibition, Red Lodge Clay Center, Red Lodge, Montana
2015 Raw Transformations: Works from the Permanent Collection, Washington Pavilion Visual Arts Center, Sioux Falls, South Dakota
2013 Mystery of the Stars, Urban Art Project Space, Collaboration with Leslie Van Stavern Millar II, Great Falls, Montana
2012 Bridging the Gap, Group Ceramics Exhibit, NCECA Exhibit, Art Not Terminal Gallery, Seattle, WA
2012 Centered on the Northwest, an invitational show featuring Northwest Clay Artists, NCECA Exhibit, Clay Art Center, Tacoma, Washington
2011 Washington Community College Humanities Association 30th Anniversary Exhibition Traveling Exhibition, Larson Gallery, Yakima Valley Community College, Yakima, Washington, and PUB Gallery of Art, Peninsula College, Port Angeles, Washington
2010 On the Line: Watershed Artists, Stable Gallery, Damariscotta, Maine
2009 Ten Year Solo Artists Retrospective, Washington Pavilion of Visual Arts, Sioux Falls, South Dakota
2009 Group Exhibition, Childhood's End Gallery, Olympia, Washington
2009 Rabbitual: Invitational Exhibition, Two Vaults Gallery, Tacoma, Washington
2008 Stories, Myths, and Legends: Group Invitational, Childhood's End Gallery, Olympia, Washington
2007 Alone Together: Caravan Traveling Group Exhibition, Yellowstone Art Center, Billings, Montana,and Jesse Wilber Gallery at The Emerson Center for the Arts and Culture, Billings, Montana
2006 Animal Kingdom: Group Exhibition, Childhood's End Gallery, Olympia, Washington
2006 Caravan Print Portfolio: Group Exhibition, Brunswick Gallery, Missoula, Montana
2005 Recycled Art Invitational, New York Fashion Academy, Seattle, Washington
2004 Man's Best Friend, Invitational Group Exhibit, Santa Fe Clay, Santa Fe, New Mexico
2003 Recounting Tales, Joe Batt and Wendy Franklund Miller, Lorinda Knight Gallery, Spokane Washington
2003 Sculptural Clay at the Modern Zoo, Modern Zoo Gallery Space, Portland, Oregon, Curated by Ted Vogel
SELECTED WORKSHOPS AND ARTIST TALKS
2020   Artist Talk, (virtual), Helen S. Smith Gallery, Green River College, Auburn, WA   
2020 Workshop and Artist Lecture, Lower Columbia College, Longview, WA                                                                 
2019 Artist talk and narrative clay figures workshop, Metchosin International Summer School of the Arts, Victoria, British Columbia
2018 Artist talk and critiques with students, Peninsula College, Port Angeles, Washington
2017 Demonstration of mixed media on clay, Process Room, National Council on Education for the Ceramic Arts, Portland, Oregon
2017 Workshop presenter, Washington Clay Arts Association Summer Social, Arbutus Folk School, Olympia, Washington
2016 Guest speaker, Columbia Basin College, Pasco, Washington
2016 Gallery Talk, The Art Center, Washington State University Tri-Cities, Richland, Washington
2016 Artist talk, Red Lodge Clay Center, Red Lodge, Montana
2015 Artist talk, Portland Community College, Cascadia Campus, Portland, Oregon
2015 Gallery talk, The Gallery, Tacoma Community College, Tacoma, Washington
2014 Guest speaker, weekly noon lecture series, Dunedin School of Art at Otago Polytechnic, Dunedin, New Zealand
2014 Gallery talk, Salon Refu, for In the Cloud installation, Olympia Washington
2011 Clay workshop, Squaxin Island Tribe Museum, Library, and Research Center, Kamilche, Washington
2010 Artist talk, Watershed Center for Ceramic Arts, Newcastle, Maine
2010 Tile workshop, with combined Middle Eastern studies and math classes, The Evergreen State College, Olympia, Washington
SELECTED PUBLICATIONS
2019 OLY ARTS multi-platform arts publication, Christian, Susan. Joe Batt's Bullies, Olympia, Washington, April 10
2018 Peninsula Daily News, 'In the Cloud" highlights digital age, Port Angeles, Washington, January 5
2017 Sights and Sounds Portland, featured in NCECA presenter interviews, presented by Pottery Making Illustrated and Ceramics Monthly, March
2017 Weekly Volcano, Clayton, Alec. Faculty and Staff Exhibition at SPSCC, Olympia, Washington, September 28
2016 Tri-City Herald, Schilling, Sara. New Art Exhibit at WSU Tri-Cities Ponders impact of 'the cloud', Richland, Washington, January 31
2015 Tacoma Weekly, Davidson, David R. Ceramic artist Joe Batt explores ubiquity of digital technology, Tacoma, Washington, November 12
2015 Weekly Volcano, Clayton, Alec. Joe Batt's 'In the Cloud' a breathtaking installation full of wonderment, Tacoma, Washington, November 25
2014 The Weekly Volcano, Clayton, Alec. Postcard Show Returns to SPSCC, Olympia, Washington, January 23
2013 Crosscurrents, Washington Community College Humanities Association Art and Literary Publication
SELECTED HONORS AND AWARDS
2019 People's Choice, While You Were Out: Annual Postcard Exhibition, The Gallery, South Puget Sound Community College, Olympia, Washington
2018 Exceptional Faculty Award, Food for Thought Project, along with Liza Brenner, South Puget Sound Community College, Olympia, Washington
2017 Juror's Choice, 15th Annual Juried Exhibition, The Gallery, Tacoma Community College, Tacoma, WA
2015 Exceptional Faculty Fine and Performing Arts Award, South Puget Sound Community College, Olympia, Washington
2011 Exceptional Faculty Fine and Performing Arts Award South Puget Sound Community College, Olympia, Washington
2009 Olympia Artswalk Map Cover XXXIX, Olympia Arts Commission, Olympia, Washington
2007 Kiln God Artist In Residence, Watershed Center for Ceramic Arts, Newcastle, Maine
2000 McKnight Artist Residency for Ceramic Arts, three month funded collaboration with Kelly Connole, Minneapolis, Minnesota